Computerized Maintenance Management System (CMMS) has the primary objective of simplifying your business management, facilitating decision-making, and assisting maintenance services.
INDUSTRIES WHERE CMMS IS USED
All industries that have equipment to maintain are potentially affected by the implementation of a CMMS solution. Thus, we can mention the following sectors:

Manufacturing (automotive, pharmaceutical, agro-food, etc.)

Energy (gas, oil, electricity, etc.)


Transportation (road, rail, air, public transportation, etc.)

Medical (hospitals, clinics, rehabilitation centers, etc.)


Public institutions (local authorities, urban communities, schools, etc.)

Construction and public works 

Depending on the specific industry, targeted functionalities can be implemented in the form of customized solutions through specific developments. 
WHAT ARE THE MAIN OBJECTIVES OF

CMMS

?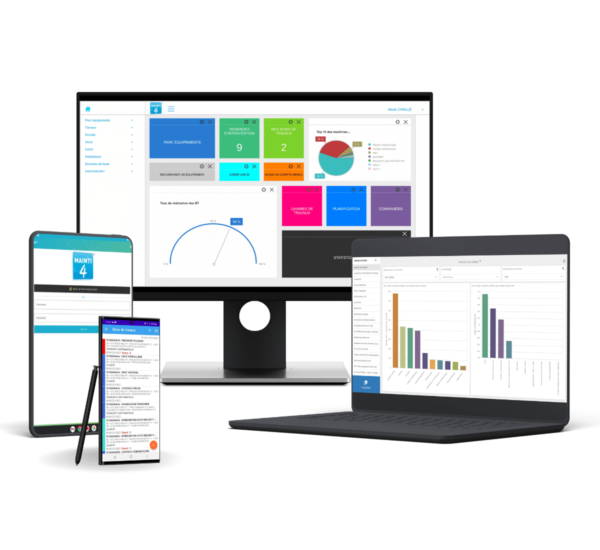 As a maintenance software publisher since 1993, TRIBOFILM makes every effort to simplify your management, and there are numerous advantages to highlight:
Improved maintenance cost management and reduction,
Enhanced production yields and maintenance team performance,
Improved reliability and availability of equipment,
Optimization of procurement (management of external contractor contracts, accounting and analytical assignments, etc.),
Comprehensive tracking of maintenance work history,
Management of intervention planning,
Determining the optimal preventive/corrective ratio based on managed equipment and availability objectives,
Better control of subcontractor and external service provider activities,
Inventory management optimization (better control of withdrawals, inventory assistance, rotation rate optimization, etc.),
Equipment traceability,
Decision support through historical analysis, machine assessments, and dashboards,
Mobility and accessibility to access maintenance information and enter real-time data,
Improved worker safety,
Compliance monitoring with current regulations.
…