Much more than a CMMS…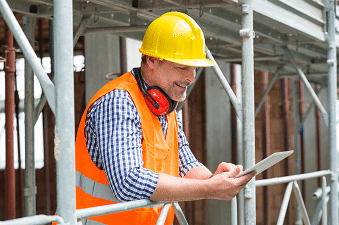 Adapted to the world of the industry as to the one of the tertiary, the maintenance management software MAINTI4® offers an ensemble of functionalities which enables to assist efficiently the maintenance service.
Beyond the traditional functions of a CMMS as the machines's park management, the curative analysis, the  organization of the preventive interventions, the stocks and buyings gestion, the reporting through dashboards and the statistics, MAINTI4® takes into account the ground realities.
The mobility tools (tablets, PDA, smartphones), and traceability tools (tags Rfid) efficiently equip  the technicians and allow them to rapidly enter reliable informations.
Learn more about our CMMS Full Web Solution and our Disconnected CMMS Mobile App.
Principal functionalities
Topologies
Equipments tree view : geographic, functional, graphic,
Unlimited levels,
Technical specifications sheet,
Related documents (plans, procedures, photos, documentation…),
Equipments type,
Historicals,
Items lists…
Work Orders

Intervention type (preventive, curative,…)
Multiple work orders edition,
Customizable filters,
Intervention nature,
Delays viewing,
Interventions status,
Technicians capacitations,
Planned and implemented interventions,
Accounting and analytical assignments…
Intervention applications
Intervention applications assistant,
Internal/external applications (Web),
Multi-services applications,
Applications from a smartphone or a tablet,
Emergency degree,
Enquirer,
Criticity,
Interventions planning…
Planning

Planning per technician in 1 clic,
Planning per hourly multi-technician volume ,
Planning per service and team,
Automatic recurrent interventions planning ,
Work orders filtrage,
States colored  indicators…
Stocks

Units storage management,
Automatic restocking,
Stocks valorisation (Pmp),
Multi supplier,
Movements historical,
Restocking,
Multi-stores,
Dangerousness,
Technical datas,
Localisation…
Purchases / Orders
Prices demands ,
Purchases demands,
Purchase order,
Partial or complete reception,
Supplies and services purchase,
Accounting and analytical allocation,
Validation circuit for orders and purchases,
Suppliers facturation,
Construction work and contracts connection…
Statistics
Multi-criterion statistics edition,
Prints export to pdf, xls, doc,
Work charges,
Recap chart,
Costs and interventions time recovery,
Distribution by services, works nature, technician,
Stocks outputs,
MTTR, MTBF, pareto, requestor,
Manpower, stoppages and subcontracting costs,
States personnalization with Crystal Report,
Business Objects universe available.